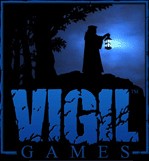 Vigil Games was a Austin Texas based game development company owned by THQ from 2005 to 2013. Founded by comic artist Joe Madureira and David L. Adams.
Most of Vigil Games where sold on auction when THQ went bankrupt at the time of bankruptcy Vigil where developing Warhammer 40,000 Dark Millennium. In a post on twitter PlatinumGames had interest in the Darksiders franchise THQ and Nordic Games acquired the Darksiders franchiseas well as the Red Faction and MX vs. ATV franchises.
Closing former members went to other game studios such as Retro Studios, Battlecry Studios and Certain Affinity in 2014 Gunfire Games was created by former manager David L. Adams as well as Airship Syndicate created by co owner Joe in 2015.
refernces
Edit
https://en.wikipedia.org/wiki/Vigil_Games Used Wikipedia but reworded the information
where the warhammer link is it opens the game that was in development.